I realised recently that I don't have much to say about the Japanese music industry these days. It's just come to my attention by how I write my blog entries of J-Pop in comparison to K-Pop over the years. I'm getting there now but still… I've never really got involved in any forums or found any updating new sites until last year. And the entertainment industry is now more cutesy, girl group dominated and money hungry.

Increase in girl group idols: There are so many girl groups that have come out that I have no idea who most of them were especially in Mechaike Idol Battle. The only girl groups I like are in H!P, Perfume, Tokyo Girl's Style…I think that's it. But I'm aware on many others such as AKB48, Fairies, Momoiro Clover Z etc. I just have no interest in knowing more groups because it's too much effort…

AKB48: Of course the biggest idol group in Japan right now but I have no interst in them. I recall liking one song in the past, スカート、ひらり (Skirt, Hirai). Since watching more variety shows of Japanese idols, I've managed to point out a few faces of certain members despite not knowing much about the group. But I wonder since their main girl, Maeda Atsuko is leaving will they still be in Japan's biggest idol group? It seems like it from these elections and promotional voting that I've heard of and it's a good strategy. But who knows?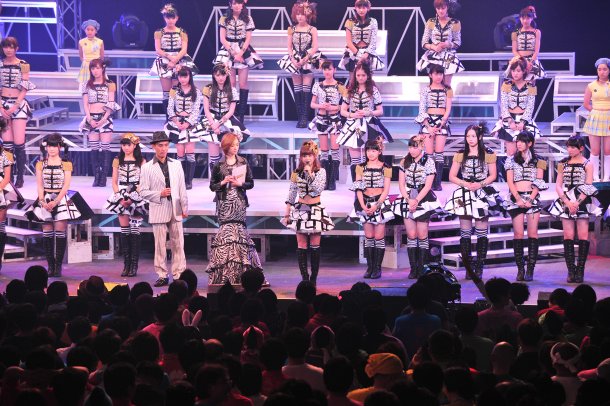 H!P Today: Hello!Project today seems to be doing alright but in my opinion, UFA needs to stop saving money and spend some of it especially on MV's and promotion for their idols. I don't think I can recall a lot of PV's this year or last year when they didn't have a made set or backdrop and actually spent money on going all out on a pretty good MV! Promotion does seem to be getting better and there is more attention on the new 11 members of H!P. Hopefully Morning Musume's 50th single will have a good MV.

Kyary Pamyu Pamyu: Late last year, I discovered Kyary from tumblr and honestly Ponponpon stuck in my head and ever since then, I've loved Kyary and her songs. She has a big impact in Japan being a fashion blogger, businesswoman and now an idol. I think she's extremely cute and am shocked that she is the same age as me but I love it. She's achieved so much that it makes me want to work harder.

Hallyu Wave in Japan: It's probably the only thing I know about the J-industry at the moment but I only really concentrate on DBSK and 2PM in Japan. I have no problem with Korean artists advancing into Japan because many have succeeded and it is the second longest music industry in the world. But the fact that the second wave is out of hand with so many greedy companies trying to make their idols stand out. DBSK and BoA are the first wave successes. The only ones I think are making a good progress in Japan are KARA and SNSD. 2PM seem to be in the middle.
But I also do not know what goes on in the J-Pop fandom. I have such a lack of knowledge of the idols, the shows they are onn and let's be honest, a look into their lives more. Because as a fan, we want to know about our favourite idols or artists when we get more into them right? Then there's industry background and when I compare what I know to the Korean industry, it's not a lot. In fact, I cannot think of anything that I know about the J-industry. The industry is a big question mark for me.
But recently, I have been listening to more J-Pop and more K-Hip-Hop/R&B, a lot more H!P, Dok2, Jungle Ent artists. I find myself going on H!O more than tumblr. Being on forums after so long (since most of the K-Pop ones I liked have been abandoned) is refreshing since everyone seems to have moved to tumblr now but still H!O carries on.
If anyone knows any links to editorials or articles of the Japanese industry and fandom, I'd be grateful.